Our tamariki are wanting to show manaakitanga to Auckland. We know that some tamariki had to miss more school and in some cases, houses were flooded and we think that the tamariki were probably quite scared of what was going on around them.
We will have a mufti day to raise a koha to pass on and send cards/letters to our friends in Auckland. Our tamariki will have some uplifting words and messages to pass on.
Please bring a gold coin donation next Thursday 9th February and tamariki can wear MUFTI on this day.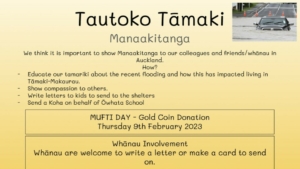 Print or Save this Post