We are just wanting to be vigilant on the hauora front and our thoughts are around Covid and keeping everyone safe. We are aware that there are a few cases of Covid around in our community and other illnessees. We feel a sense of responsibility to keep our tamariki and whānau as safe and well as possible. Please also keep in mind that we are doing a livestream on our school Facebook page.
We are asking these things:
Please connect to the livestream from home if you are unwell.
Please limit whānau attendees to 1 – 2 per year 6 tamaiti – we are limited on space.
Please consider utilising our sanitiser and masks available at the entrance.
We appreciate your support and consideration around this.
Nā,
Whaea Robyn and Whaea Callie.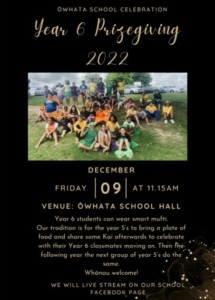 Print or Save this Post