Kia ora whānau,
Re: Owhata's response to COVID19 / Risk Assessment.
We have completed a risk assessment in relation to the COVID19 pandemic. These are the steps we are taking to ensure that we are putting wellbeing at the forefront during this time. Please be reassured that we are in constant discussion with the Ministry of Education, our community and our whānau about what this means for our school.
Noho Marae – due to start 23rd March 2020:
We have made a decision to postpone our Noho Marae until the third term and we will not go ahead with day trips on the proposed dates. We considered the overnight risks such as sharing facilities, sleeping in close proximity in numbers of 70 plus, low immunity and our inability to monitor hygiene as closely as necessary. We want our tamariki to benefit from the full experience of a pōhiri process and overnight stay therefore, this is the stance we are taking.
Hygiene at School:
We are taking strong measures in the area of hygiene and will be working with our Piripoho Nurse (Leesa King) and Public Health Nurse (Paekiri Vercoe) to provide education around hygiene in all classes. Our teachers will be reinforcing the learning and putting safety measures in place. We will be encouraging good hygiene practices with all tamariki. We are also providing tamariki with their own hygiene packs to reinforce the learning and good practice. We are in discussion with our cleaning company about deep cleans and will provide all classes with antibacterial sprays and wipes for a thorough clean.
School Gatherings and Assemblies:
We will not be gathering as a school (or in groups of more than 60) at any time over the next two weeks in which we will reevaluate that decision. This means we will not have any school assemblies, kapahaka practices or excursions with large groups. This also means we are unable to hold a school disco this term. Our Monday assemblies will be done using an online platform with tamariki in their own classes.
Whānau Support:
We are asking that any tamariki who present with a sore throat, a cough, or difficulty breathing be kept away from school until seen by a doctor or nurse. If at any time, your whānau comes into contact with an infected person/persons, YOU INFORM THE SCHOOL IMMEDIATELY. At this stage, we are confident we will not need to close our school for a period of time, however if any of our tamariki or whānau need to isolate, we may be required to close. We are talking with the Ministry about the possibility of providing work for our students should we need to close. We will also be monitoring our most vulnerable staff and students and ensuring we have the facilities to respond should we need to. Please make sure we have up to date medical information – e.g. asthma, history of bronchitis.
If you have any concerns please contact our Principal, Bob Stiles, (07) 345 6051.
Remember, if you are opting to keep your tamaiti home, we respect your decision and just ask you phone in to the office 😊
07 345 6051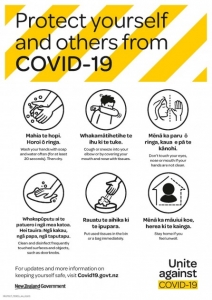 Print or Save this Post